Working dynamics have been changing very swiftly. In the past, being physically present to participate in a meeting or conference was paramount. However, digitalisation has made it all easy and straightforward! Now, businesses have become a dynamic hub and AV technology has made this possible.
From interactive displays that bring presentations to life to seamless wireless connectivity that keeps everyone in sync, AV technology is taking conference rooms to a whole new level. Audio-visual technology is not only transforming conference rooms but also improving and enhancing the communication, collaboration, and productivity of meetings.
In this blog, we will embark on our journey to the world of conference rooms and the mind-blowing impact of audio-visual technology on them. So, let's d
What is Audio-Visual Technology?


Audio-visual can be defined as any piece of media equipment having both audio and visuals. It comprises digital devices (audio and video) to enhance the experience of collaboration and communication. Audio-visual technology is rising in the corporate world and is employed in numerous settings, including;
Meetings
Presentations
Seminars
And more!
Audio-visual technology has revolutionised traditional means of communication. The businesses have unlocked countless benefits by introducing AV components. With decent audio and visuals, you can convey a powerful message, moving to improved comprehension and retention as well.
How is AV Technology Transforming Conference Rooms?

Audio-visual technology has transformed the conference rooms by enhancing communication, productivity, and collaboration. There are many other factors that are also contributing to the transformation process of meeting rooms, including;
Wireless Connectivity
Wireless connectivity plays a crucial role in transforming the operations of conference rooms. It facilitates the meeting rooms by connecting multiple devices to the same network, making collaboration efficient. In addition, the attendees can display audio and videos by connecting the projector wirelessly – without needing to plug any cable into any device.
Video Conferencing Solutions
The trend of video conferencing has been rising exponentially. During the global pandemic, everything got digitalised. Governments recommended workers to manage their jobs remotely. Therefore, video conferencing technology helped streamline businesses through digital collaboration.
In the fiscal year 2022, the revenue of Zoom increased by 7.5% from the previous year. However, at the end of fiscal year 2023 (January 31st), the revenue was about 4.4 billion USD.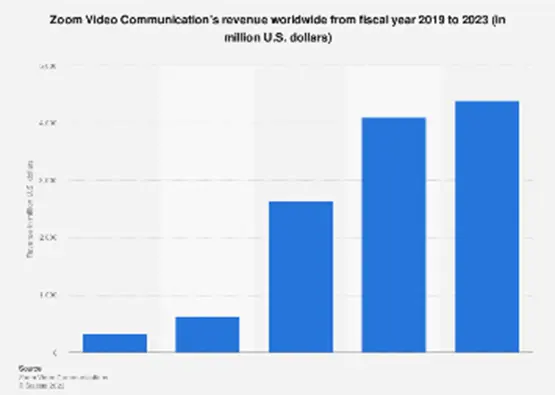 Worldwide Revenue of Zoom from Fiscal Year 2019-2023
So, with the rise of remote work, video conferencing solutions are increasingly demanding to conduct efficient and productive meetings. It allows the team members to join from anywhere in the world by just clicking on the meeting link.
Touchless Technology
Touchless technology has been introduced in various industries. From automatic doors to digital billboards, you can witness touchless technology all around you. The purpose of touchless technology is to enhance convenience, speed, and hygiene by removing friction from the buying process and supporting self-service.
The market value of touchless technology is predicted to rise threefold in the upcoming years. The market size of touchless technology in 2021 was 13.6 billion USD and is expected to reach 37.6 billion USD by the end of 2026.
Artificial Intelligence (AI)
AI is referred to as the ability of a machine or program to replace the human mind's prowess. These AI competencies have eased the operations of organisations in many ways, which is why every business is now benefiting from this incredible resource.
The AI market is growing by leaps and bounds. The global market size of AI was around 433 billion USD in 2022 and is expected to reach more than half a trillion USD by the end of 2023.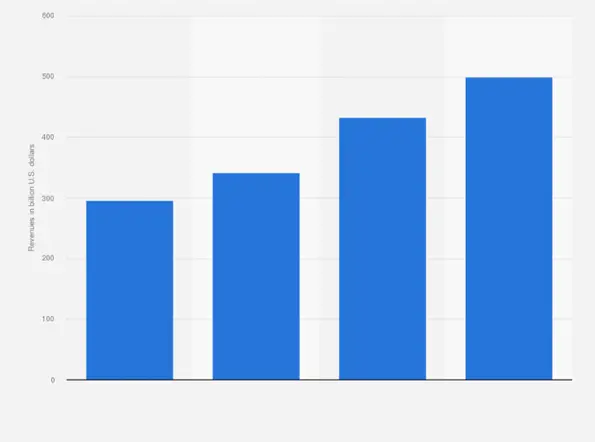 Global AI Market Size 2022
Nowadays, AI-based AV technologies are integrated into conference rooms since they allow modified communication and enhanced collaboration. Moreover, AI technology assists in automating tasks like operating AV systems, scheduling meetings, tracking time, and more.
Premium Acoustics
Acoustics play an essential role in conducting meetings in a conference room. Without clear voices, it can be hard to understand what's going on in a meeting. Therefore, it is necessary to have premium sound management to discuss ideas and other subjects without distraction and noise bleeding.
To create a premium acoustics condition, the following are the factors to consider:
Dimensions of the room
Site selection and planning
Shape and design
Seating arrangements
Flexible room layout
Treatment of interior surfaces
Sound absorption and reverberation
LED Displays and Video Walls
Conference rooms are used to communicate and collaborate with customers, employees, and visitors. To offer them a decent experience, sharing digital visuals and infographics is essential to make them understand more about the inner details. That is why it is significant to have LED Displays and Video Walls in your conference room.
Professional AV Setup
To enhance professionalism in your in-office meetings, an AV setup plays an efficient role. It does not only enhance productivity but improves focus. Having the best AV setup in your settings can assist you better in sharing ideas, communicating, and proficient decision-making.
Critical Components of AV Technology
Many factors contribute to making an AV setup successful. Therefore, the audio visual equipment that brings life to a conference room is as follows:
Types of Displays
Visuals are known to be the key element of any meeting room since it's the display you put your eyes on when you enter a room. However, displays can be classified into three categories according to the room size and your content type. So, let's take a look:
1. Video Walls
Video walls comprise many screens assembled to create a big one. These displays can be configured into different sizes and shapes as per your meeting room design. Video walls come with bright colours and display vivid images and videos, making the attendees' experiences incredible. Lastly, these displays are perfect for big settings due to their size.
2. Projectors
Projectors are commonly used in displaying presentations on a large screen. They come in different kinds, including;
If you plan to use projectors, ensure it has good resolution for a vivid view. The preferred resolution is 1080p or 4k UHD. Projectors are used for large conference rooms.
3. LED TVs
LED TV is another display type and is available in different sizes. Moreover, you can buy the one that mounts on a wall or the one to be placed on a stand. LED TV is the best display for smaller conference rooms.
Sound Systems
Having the best sound system incorporated into your conference room is crucial. That is why an AV setup comes with a high-quality sound system that provides crystal-clear sound to engage everyone in the room.
There are two common types of sound systems used in conference rooms:
| | |
| --- | --- |
| Wired Sound System | Wireless Sound System |
| Offer high-quality sound | Flexible to connect |
| Difficult to install in conference rooms | Easy to install in conference rooms |
Microphones
The quality of microphones has a direct impact on the meeting's experience. These mics are used to promote interactive discussions. Every microphone unit comes with a button (on/off) and an equipped loudspeaker. Unlike conventional mics, conference microphones eliminate noise, making the experience even better!
Lightings
To enhance the viewing quality, it is significant to have the best lighting possible. Two types of lighting are mostly used in conference rooms including;
| | |
| --- | --- |
| LED Lighting | Halogen Lighting |
| Energy-efficient and flexible | Warm and welcoming colours |
| Easily adjustable for different settings | Only suitable for smaller conference rooms |
Cameras
For video conferencing, it is crucial to have a camera equipped in your conference room. The range of the camera must be wide to cover the room properly. It is recommended to consider a camera having a 180-degree viewing angle. This can be a good choice for smaller rooms.
Considering large conference rooms, you should go for pan-tilt-zoom cameras. In addition, your AV professionals can help you choose the best option according to the size and shape of the room.
Control Panel
The control panel plays a significant role in efficiently controlling audio and video operations. The factor that matters the most about a control panel is its interface. Ensure the control panel has an easy-to-use and interactive interface for the users.
Whiteboard
In a modern meeting room, it has become essential to have an interactive whiteboard. It is used to increase engagement, arrange meetings, and provide efficiency to enhance the experience of remote participants. Moreover, it enhances the participation of remote participants by writing on the whiteboard using different colours to explain the projects.
Choosing the Right Audio-Visual Technology
When it comes to choosing the right audio-visual technology, you need professional assistance. With the right AV, you can appreciate longevity and enhanced performance.
Choosing the right AV experts is integral if you expect them to bring efficiency and skills to the table. They know how to correctly install an AV system in a complex conference room to bring the best out of it. Moreover, it is time-saving and saves you from all the exhaustion it can cause.
So, if you are looking forward to hiring AV technology experts, go for the one with a higher client retention rate and decent feedback.
Future Trends in Audio-Visual Technology
The future of audio-visual technology seems to be very bright. It is expected to bring advancements in AI, immersive technologies, and IoT integration.
Artificial Intelligence (AI) – to automate tasks, including meeting scheduling, transcribing, summarising, and taking follow-up actions.
Immersive Technologies – to enhance remote site visits, simulations, and 3D visuals.
IoT Integration – to allow smart meeting rooms with adjustable temperature, lighting, sound, and other environmental features.
Final Takeaway
By incorporating AV technology in businesses, conference rooms have shifted from stagnant spaces to innovation hubs. It has transformed the way people interact in their workspaces. Everything can be discussed or planned remotely, whether it's a presentation or product launch. AV technology has made collaboration and communication easy. Therefore, to modernise your conference rooms, consider hiring AV for your organisation.