There were days when people used televisions, newspapers, and magazines as primary sources of advertising. But today, everyone is busy in the whirl of life. People only get to stay updated with new products or services by looking at the led advertising billboards on their way.
Needless to say, led screen benefits businesses in a unique way. These screens are not only enhancing the customers' engagement but also increasing the retention rate. For the same reasons, led advertising has become very convenient and compelling.
According to the latest iab uk and pwc adspend study, digital marketing has grown by 11% in 2022, reaching £26.1 billion.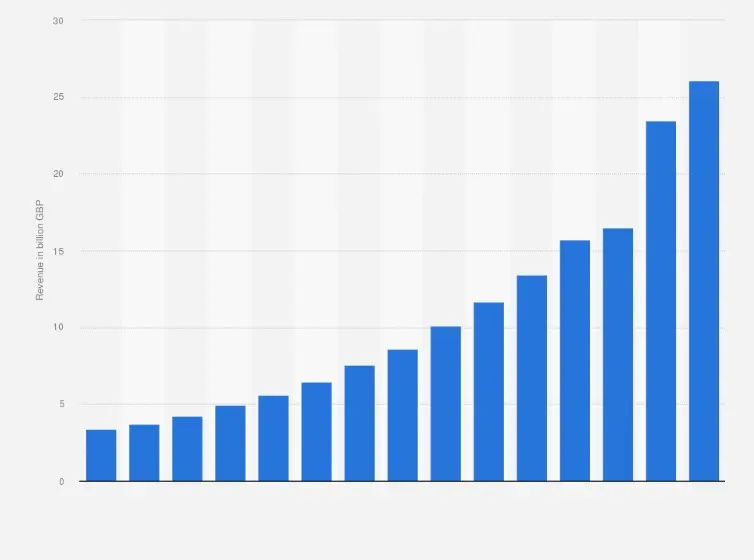 In this blog post, you will learn about led screen benefits and why they should be incorporated into today's business marketing strategies.
What is an led advertising screen?
An led advertising screen is an electronic advertising media displaying video and static visuals having high-quality graphics. Led advertising screens are incorporated with a collection of light-emitting diodes (led), and each screen comprises different diodes that you can control separately to display pictures and videos.
Using led display technology, you can create ads on different surfaces. Since it uses a cloud-based management system (cms) along with a wireless internet facility, led displays allow the exact level of control for the advertising units.
Led screen advertising can be used for various commercial, private, and public businesses, including;
… and many more!
What makes advertising displays the best is their personalisation and customisation according to your requirements – without compromising the quality.
10 incredible led screen benefits for the advertising industry


Whether you are launching a new product or it's a sales season for your brand, spreading the knowledge to your targeted audience can be tricky. The ever-evolving technology has made promotional procedures easier by introducing led video wall screens. Therefore, we have compiled some of the led screen benefits for you:
1. Remote operation
Digital advertising technology has eased operations since you can operate several digital boards from anywhere with just a few clicks. For instance, if you are in birmingham and want to run ads in london, upload the content, images, or videos on the backend of your ad display software, and it will start working. Ensure you have a stable internet connection.
Using led display technology, you can change the content without touching the sign. Wireless data sends signals from the system to the sign back and forth, making the visuals change within seconds.
In addition, if you have to display ads across various locations, using a cloud-based remote management solution is ideal. It assists you in publishing content, monitoring the performance of your device, and updating and troubleshooting the software without the need to be physically present there.
2. Visual portrayal of messages
The purpose of advertising is to give your message to the targeted audience. Traditional approaches to advertising have been changed, and people now just see the ads on their way. So, it should have the capability to draw attention in the first blink.
Led screen-based displays give you complete control of your messages. According to the ad content and message, you can customise the audio, visuals, texts, and colours to create a unique and eye-catching advertisement to represent your business better. Moreover, adding animation can be a splendid way to attract your audience since it has longer-lasting effects on the mind.
Since led displays allow you to change your ads within seconds, you will have superiority and control over your branding. Therefore, you can craft your messages and switch marketing levels according to your strategies.
3. Higher ROI(return on investment)
The traditional advertising sources, i.e., static billboards, are extremely expensive. It requires money for vinyl advertisement and flight, i.e., ad space hire. Moreover, you have to spend money repeatedly if you want to keep your ads running – so it's not that fruitful!
In contrast, advertising led displays are easily operational and offer a higher investment rate. The initial capital on led ad displays is higher, but there is no production cost later. You can upload multiple files on a display software and display them according to your strategy.
To maximise your profit, adopting the latest marketing strategies is important. Outdoor advertising screen is the best way to draw attention. Therefore, it brings a remarkable experience to your advertising strategy along with more return on your investment.
If you incorporate an led display in your branding, you can calculate the roi by the following formula:
ROI= (net profit / investment) x 100
4. Low maintenance
An led screen is installed using led display panels having splicing technology incorporated flawlessly. Each led panel is assembled by power suppliers, modules, cables, and receiver cards. Every component can be dismantled whenever there is a need to replace it without disassembling the whole screen. It is money and time-saving.
Led advertising displays do not require much maintenance since they are not prone to damage. If you hire high-quality equipment, the products require minimum to no attention after installation. Moreover, you can customise and change the leds in a display whenever needed since it does not require heavy labour.
5. Longevity and reliability
Led displays offer longevity in comparison to traditional advertising methods including prints and billboards. Since the billboards can get ripped or fade away, led displays have no such problem and are to stay as long as you want them to. Moreover, digital billboards are not low quality and can be reused in the future.
No matter how bad the weather condition is, there will be no disruption in playing your messages and ads. As long as the electricity holds, your audience will get a good sight of your ads.
Along with longevity, led screens offer ultimate reliability as well. Sometimes, the led advertising boards are placed on higher structures so the suppliers ensure safety.
6. Eye-catching visuals
Led displays comprise advanced screens with high resolution and definition. If someone is a mile away, they can see the visuals clearly with the right brightness and contrast. In addition, you can customise the brightness and contrast levels according to the settings of your event. The vivid colours and clarity make it impossible for the audience to ignore your message.
To create eye-catching visuals for your ad, some tips are as follows:
By following the above parameters, you can enhance the effectiveness of the ad. It draws people's attention towards your business and may become your long-lasting clients.
7. Environment-friendly
The traditional billboards need to be changed whenever you want something new to go up. Since they are crafted of plastic material and require printing and painting, this is not only a time-consuming procedure but also adds a lot of polluted components to the environment.
When it comes to advertising, using led billboards brings convenience to the advertising procedures. Led advertising is energy efficient, and once the led is installed, changing the ads is just a few clicks away. Therefore, if you are more of an environment-conscious person and looking forward to minimising your carbon footprint from the ecosystem, digital ad display is the best choice.
8. Cost-effectiveness
Led displays are known to be cost-effective since they consume less energy, making them more economical as compared to the traditional ad display methods. Even when the displays are high-definition and have high-quality content, they are less expensive.
In addition, led advertising displays are automated. You just have to create an initial ad and upload it to the program. It will run its course itself. Moreover, you can operate it off-site so you will not need to hire any assistance for monitoring.
Unlike traditional ad display methods, it requires no printing or shipping costs, even if you have to display multiple signs in multiple locations.
Lastly, you can scale it up or down whenever you want. You have the authority to decide how much you want it to advertise. Moreover, you can choose the time slots, i.e., display them at your preferred time – saving you money!
9. Versatility
In the past, there was a limit to marketing your products, launches, and businesses. Now, the sky's the limit with ever-evolving technology. Unlike the traditional methods, where it was hard to squeeze all the information in the limited space of a newspaper or billboard, now you can convey your message effectively in visuals. However, your ads are not limited to space now. You can incorporate all the information you want, ensuring an understandable and compelling format. Moreover, you can replay it as much as you like.
With led advertising, you have all the flexibility, whether it's about your message, format, time, or duration – you can choose everything yourself!
In addition, it offers versatility in the designs so you can create unique and innovative ads to stand out. You can use led advertising displays in both indoor and outdoor applications, including;
10. Add value to your brand
Advertising via led displays is the key to standing out in your business! Since led displays can be personalised and customised feasibly, you can add attention-drawing visuals that complement your brand and help outgrowth.
By adding vivid and bright colours, you can create eye-catching ads to grab the focus of your targeted audience. With the accurate pixel pitch, you can make your ads more appealing to the audience since they will not have to squint their eyes to concentrate.
Lastly, you can choose the demographics where you know most of the audience resides to increase traffic.
Incorporating led screen advertising in your business's marketing
With digitalisation, the standards of marketing have changed. Nowadays, people do not pay any heed to newspapers and billboards. Led display advertising is the most productive and energy-saving way of marketing these days. Since these displays are energy-efficient, i.e., they consume little electricity, you won't have to spend a hefty capital.
How to set up an led advertising screen?
To set up an led advertising screen, consulting with an led advertising agency is significant. However, finding someone who understands your needs and helps you turn an idea into reality can be difficult.
led video wall hire has been working for over a decade to promote your businesses correctly. We help you take the audience's engagement to the next level. Our led technology allows interaction with the attendees, enhancing active participation, sharing real-time content, and much more.
Bottom line
Led screen benefits in the realm of promotion and marketing. With its attention-grabbing visuals, you can enhance the brand's visibility and recall. Led screen advertisement is energy-efficient and cost-effective, making it more economical but fruitful for your business.
In addition, it has the potential for engagement and interaction, leading towards customer leads and retention. Therefore, add advertising led displays into your marketing strategies to make your business distinctive in the crowd.
Frequently asked questions
How do led screens compare to traditional advertising methods?
Traditional advertising requires physical labour, which is expensive compared to led screens. The distinct difference between both types is the source of medium through which the marketing takes place. In contrast to traditional advertising, you can change your ad within seconds on led displays, which can be operated from anywhere. So, led advertising is more efficient and inexpensive.
What industries can benefit from led screen advertising?
Led screen advertising can benefit businesses that thrive to attract considerable audiences and bring more traffic to their brand. Led screen advertising is used now in various industries, including retail, restaurants, cinemas, sports, event production, hospitality businesses, and more.
Can led screen advertising be customised for branding purposes?
Led screen advertising is highly customisable, making it an excellent choice for businesses to stand out in the market. You can use led advertising to craft your message and ads according to your brand to enhance engagement. It has the ability to draw customer's attention and increase conversion rates.
Why is display advertising an effective acquisition channel?
Display advertising is an effective acquisition channel since it allows you to increase brand awareness, enhancing engagement and customers. It is used in;
Display ads also give you access to re-market your products and services. With more views, there are also increased chances of more potential purchases.
How can i measure the effectiveness of my led screen advertising campaign?
To measure the effectiveness of your led screen advertising campaign, have a look at the following pointers:
Set a clear goal
Analyse the site traffic (before and after the campaign)
Review the number of lead generation
Compare the key metrics (before and after the campaign)
Collect survey data