With the rise in technology, the world has become a visually-driven space. Whether it's a conference, a seminar, or an AGM, the exemplary display form is the number one concern. Finding the best LED video wall can be overwhelming if you don't know much about AV. To perform this daunting task, you must know the basics of the LED video wall hire.
In this blog post, we have compiled a guide to help you pick the right LED video wall hire and how it can be beneficial for your event. So, let's delve right into it!
What is an LED Video Wall?
LED is a diminutive for Light Emitting Diodes – an advanced semiconductor light source employed in the latest form of displays used in offices, events, or in-home theatres. The LED video walls comprise many small bulbs emitting lights to display an image.
LED video walls have become more common because of their pocket-friendly pricing. Moreover, the market value of LED video walls in 2018 was around $15.91 billion, and it is expected to reach $36.16 billion by the end of 2026 and $47.5 billion by 2030.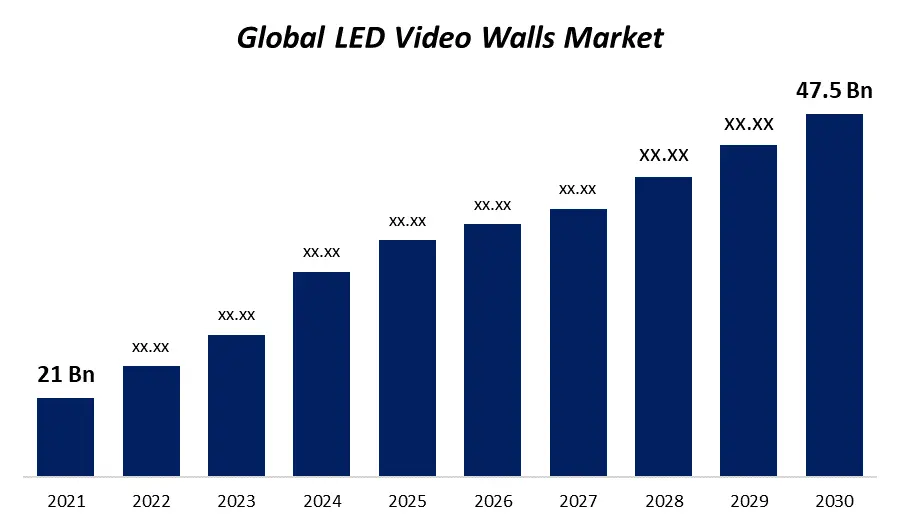 Increase in Market Size of LED Video Walls by 2030
What is LED Video Wall Hire?
LED video wall hire refers to a rental display much more extensive than any fixed screen (installed in a place and not to be moved for a long time). A rental screen serves the purpose of mass viewing to please many audiences. In addition, another term for LED video wall hire is "wall screen." It comprises multiple individual modules linked together to create a video wall.
Factors to Consider for LED Video Wall Hire
For an AV virgin, choosing the right supplier is the key to success. When it comes to LED video wall hire, you need to know your requirements precisely to make an appropriate choice. Considering the complexity of the subject, we have compiled a few significant factors.
Focus on Purpose and Venue
The first and foremost factor to consider is the purpose and venue of your event. You must be specific for what purpose you will use it, i.e., for a conference, charity show, exhibition, or fashion show. Moreover, before choosing an LED video wall hire, consider if it will be an indoor or outdoor event. It is essential to evaluate the venue to make a decision about viewing angles and lighting conditions.
Explore the Size
To fulfil the mass viewing requirements of your audience, it is crucial to pay heed to the size of your venue and display. The size of the LED video wall is directly proportional to the size of the venue. If you arrange your event in a larger space, you will require a larger display, and vice versa.
Search for Optimal Pixel Pitch
It is known to be the distance between LED clusters on the screen. Pixel pitch determines the quality of clarity and resolution. A larger pixel pitch works better when there is a greater distance between the audience and the display. A larger pixel pitch is usually recommended for outdoor events.
Look Over the IP Rating
An IP rating is the display's resistance against nature's components. To understand the protection measurement, the IP is written as "numbers 1 and 2," the first number signifies the level of protection from solids, and the second number showcases the level of protection from liquids.
Check Brightness and Contrast Levels
Considering the optimal brightness and contrast levels is essential to appreciate decent visibility in different lighting conditions. If it is an outdoor event, using a higher-brightness display is recommended. Moreover, to appreciate visuals, picking a display with a decent contrast ratio is essential.
LED Video Wall Hire Cost
Lastly, LED video wall hire cost is a significant contributing factor. The cost of an LED video wall is mainly covered on a daily basis. The first day of hiring is typically considered the most expensive one. However, the cost is around 20% of the first day's rent on consecutive days.
To keep an estimate, it is usually calculated as 35 to 60 GBP per sq. ft of screen space. For instance, if you want to rent a 16′ x 19′ screen, you can do the calculations as follows:
(16*9*35) to (16*9*60)
Note: Generally, the starting LED video wall hire cost for a smaller display (around 10 to 12 feet) ranges from 2400-4000 GBP for one day.
Why Should You Choose LED Video Wall for Your Event?
Nothing can be better than captivating visuals to keep your audience attentive and focused. Pleasing visuals are the essence of any event, and to make it successful, one must understand the advantages that LED video walls bring to an event.
The foremost benefit of LED walls is their clarity and brightness. Whether your event is in broad sunlight, LED video walls provide bright images. One can appreciate the quality without putting any strain on the eyes.
Another significant advantage is their nature of customizability. No matter how big your venue is, you can customise the size of the wall as per your requirements.
Process of LED Video Wall Hiring
The procedure of LED video wall hiring is not limited to picking up your product and paying the fee; however, it requires thorough planning. Following are the steps for LED video wall hiring:
Choose the right supplier
Check the track record and feedback
Enlist your requirements
Discuss your requirements with the supplier
Since they are AV experts, they will assist you in selecting the proper display to illustrate your content in your event. The company will deliver the equipment after choosing the best LED video wall for your event. Moreover, they will help you in dismantling the equipment after the event.
Final Takeaway
Hiring an LED display can make the event remarkable for you and your audience. In addition, adding an LED screen can change the whole vibe of your venue, making it more sophisticated and formal. Therefore, go for LED video wall hiring to add a "wow" factor to your event!
LED Video Wall Hire offers customisation for your event. Whether you want an outdoor or an indoor event, we can make it work for you. With over twenty years of experience, we have honed in crafting successful events with our friendly and experienced team. Moreover, you can reach us anytime since we offer 24/7 support to our dear clients. So, have a happy event!